Join Singapore's new autonomous university, one which focuses on applied learning that integrates learning, industry and community. Be part of an organisation that prides itself on diversity, collegiality and performance excellence as common traits within our work culture. Embark on your career with SIT.
Find out what makes SIT unique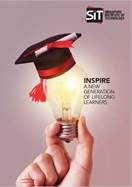 For various jobs openings and information, please click on:
For job-related queries, please email to:
SIT has received reports of unauthorised recruitment agencies making fictitious offers of employment on behalf of the Institute. If you have received an offer from a recruitment agency, please contact us at emails as stated above, to validate the offer.